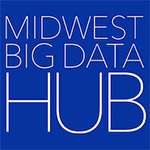 Midwest Big Data Hub
Accelerating the Big Data Innovation Ecosystem
Principal Investigators: Franco Pestilli (IUB Psychologica land Brain Sciences), Inna Kouper (IUB Informatics), Beth Plale (IUB Informatics; 2015-2017)
The Midwest Data Hub was established in 2015 to build a regional consortium for big data cross-sector partnerships with the goal of managing the end-to-end lifecycle of big data assets, including such issues as ownership, legality, and interoperability. Steps in the data lifecycle include ingestion, validation, curation, quality assessment, anonymization, publication, active data management, and analysis (including information extraction, visualization, and annotation). Automated (or semiautomated) techniques are needed to keep up with the rapid data rates, large volumes, and immense heterogeneity of big data. Automation may also aid the reproducibility of data processing and analysis workflows. The data challenges and lessons learned by the Midwest Big Data Hub's thematic communities on such automation efforts are expected to be shared with stakeholders as well as more broadly across the network of NSF Big Data Hubs and other thematic communities.
The Midwest Big Data Hub (MBDH) is one of four regional Big Data (BD) Innovation Hubs launched in 2015 with support from the U.S. National Science Foundation (NSF award #1550320). The Founding PI was Beth Plale, with Bernice Pescosolido serving as the PI for the Network Science Spoke.
IUNI supported the initial development of the MBDH, with Val Pentchev serving on the steering committee.
Visit: http://midwestbigdatahub.org/